Our Accommodations
WINTER 2016-17 OUR HOT TUB & SAUNA ARE OPEN
IN THE WINTER WE OFFER ONLY THE CHALET & LARGE LAKEFRONT HOME
Our self- catering lakefront cottages are fully equipped with complete kitchen amenities including, toaster, coffee maker, microwave, stove, fridge,and BBQ with propane. Satelight TV, celluar phone service and WIFI arat each cottage( except lakeview, no TV) .
ALL cottages have private frontage and fire pits with piknic tables and are seperated with trees and green areas.
Our scenic beautifully landscaped property offers complete comfort and relaxation, inside & out. Bring your lawn chairs, water toys and come enjoy our shallow sandy shoreline at Commanda Lake Resort.
Commanda Chalet is a Private Lakefront Home - OPEN Year round
Managed by CLR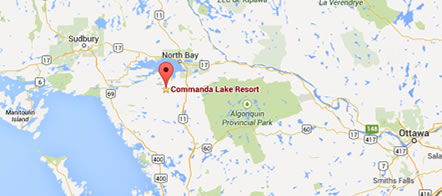 ith
Commanda Lake Resort is located in northern Muskoka, our region is titled Loring-Restoule part of Explorers Edge tourist region. Our area offers a playground for adventure seekers, quiet starry nights around the camp fire and excellent water activities on our 500 ft beachfront property.
Our shoreline has a shallow sandy weedless entry, each property has an individual camp fire pit , with Bbq and private frontage on the lake with trees seperating each property for a private cottage experience.
Things to consider for your vacation:
Bring your Boat & Water Toys - Our beachfront property offers great swimming and water playing, Commanda Lake has great fishing for Bass, Walleye, Northern Pike, Black Crappie etc.
Bring your ATV - There are many great riding locations and trails from the resort.
Bring the Bicycles & Hiking boots - Vast hiking trails and bicycle trails abound with the forgotten trails,Nippissing trail, Canada Trail, & back road routes that are though out our region accessible from our front door.
Bring the golf clubs - Golf at 3 local course 1/2 hr from CLR
In addition there are many Artisans scatter though out the region from pottery to crafts & more.
Come visit in the spring summer , fall and winter each season offers special circumstances and actovites.
WINTER 2016/2017
SNOWMOBILING DESTINATION - SOME OF THE BEST, NO TRAFFIC ON THE OFSC TRAILS !
SNOW SHOEING, We have a couple extra sets to use.
CROSS COUNTRY SKIING We have about 8 sets for free use
SNOWMOBILE MAPS AND TOUR SUGGESTIONS
HOT TUB AND SAUNA- OPEN in the winter
CANOEING AND BOATING
ICE FISHING, BRING YOUR GEAR AND CATCH THE BIG ONE
RETREATS, ROMANCE AND MORE!!!
PLEASE INQUIRE, WE WOULD BE HAPPY TO HELP ASSIST WITH PLANNING YOUR VACATION